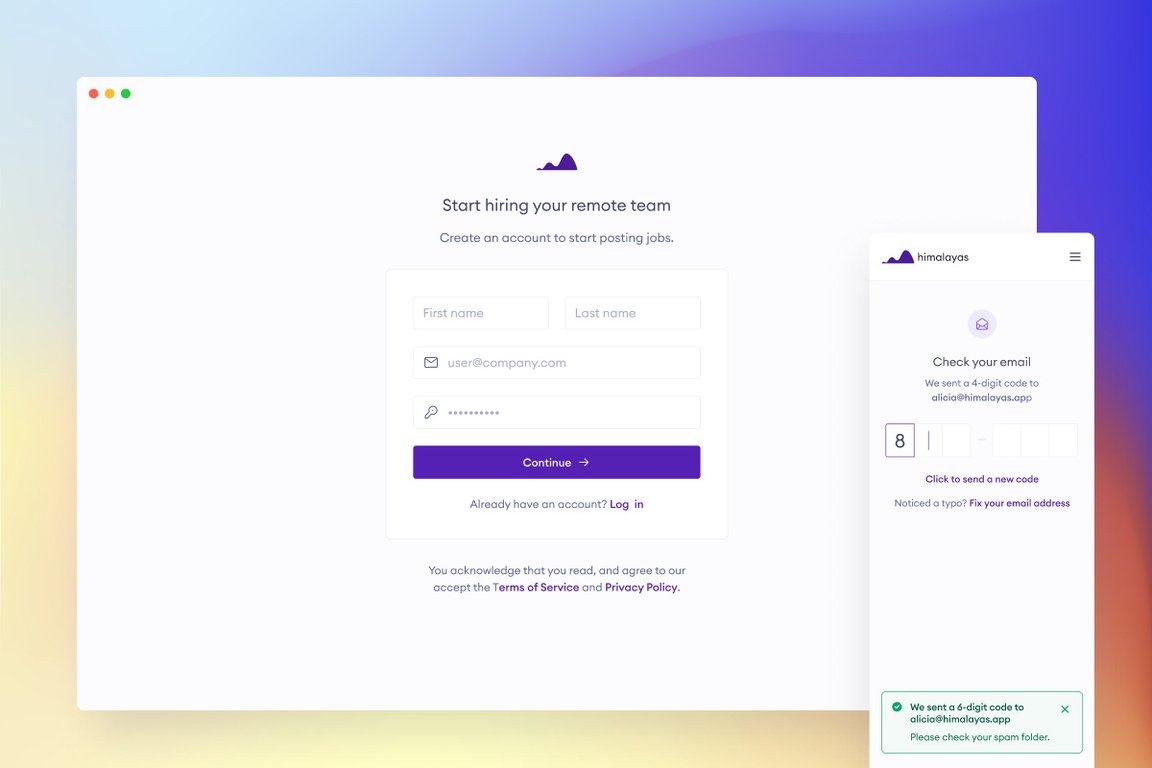 Employer accounts
We're rolling out our new employer dashboard which lets you create or claim an existing company profile, post new and manage existing jobs, and invite colleagues to manage your Himalayas account.
Pricing is simple: Your first 3 jobs are $1 each, after that it's a flat $29 per post. Jobs are live for 30 days, branded with your company logo, and we'll contribute 10% of your purchase to removing CO₂ from the atmosphere. There are no recurring or hidden costs and no complicated upsells.
Restrict roles to specific geographies or timezones and let job seekers filter themselves out so you don't have to. 
The employer dashboard gives you access to in-depth insights into how your job posts are performing and lets you edit jobs or update your company profile whenever you like. 
Other fixes and improvements
Added pricing page
Improved nav bar to show popular job categories and companies with the most active jobs on Himalayas
Added working permit indicator to search pages, individual jobs, and filtering
Added email capture to search pages, job pages, and company pages
Fixed issue causing breadcrumbs on job pages to render incorrectly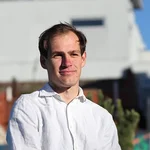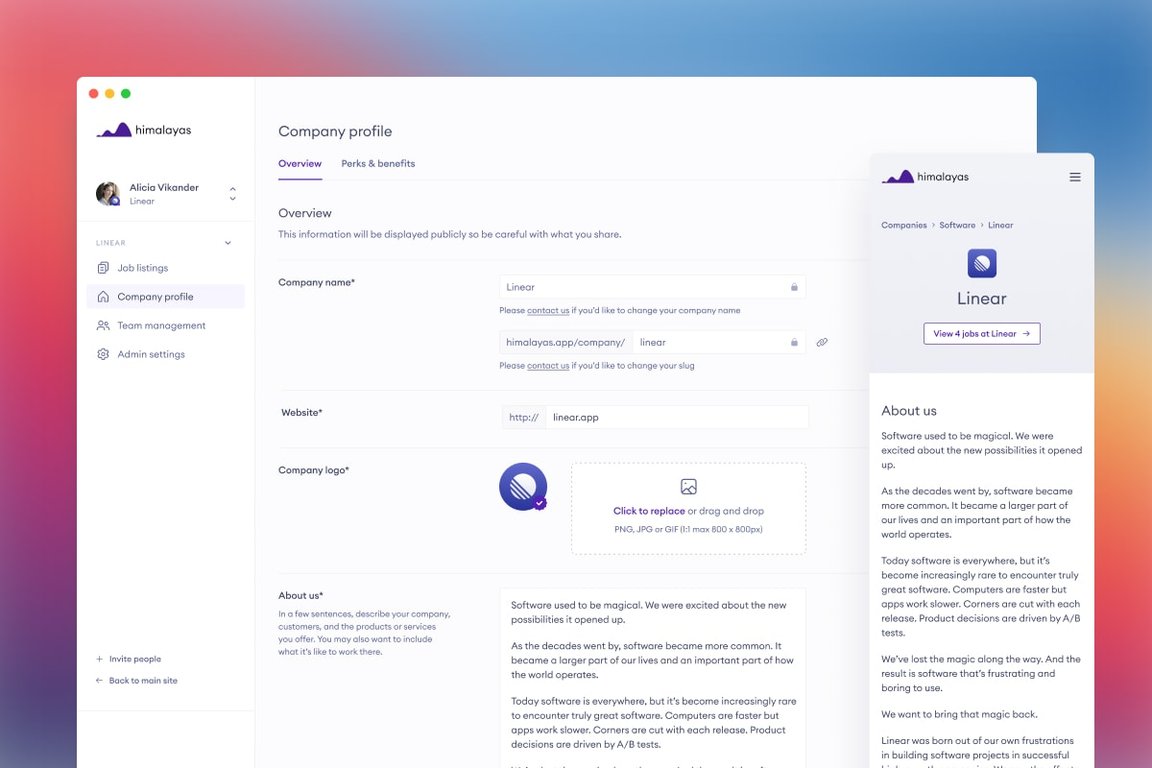 We're back
We're back after two months off. To celebrate, we spent the week fixing a bunch of bugs and cleaning up some design inconsistencies we just weren't happy with.
We want using Himalayas to feel like magic, so we'll continue to sweat the details. The average job board looks like it hasn't been updated in a decade. Our goal is to make our software frictionless, simple, and fast. We've got a long way to go but we're happy with where we're headed. 
This work also paves the way for our next big feature: employer accounts. We're excited to share what we've been up to, and we're even more excited to welcome our first employers to the platform. 
With employer accounts, you'll be able to sign up, create a new or claim an existing company profile, and manage job posts. If you want a sneak preview, or just want to learn more about posting to Himalayas, please reach out at
[email protected]
Other improvements and fixes
Hide clear on search and filter box until an input
Reduced padding from 16px to 8px when pills wrap to a new line in the filter panel
Improve primary and secondary button hover states
Improve filter panel for mobiles
Fixed issue causing back arrow to not work properly on our job and company search pages
Fixed Renderton to serve a static version of the site for web crawlers
Reduced bottom margin on the pagination element on tablet and mobile from 160px to 128px and 80px
Increased clickability of page numbers by increasing padding 
Improved hover state of page numbers
cmd + click on similar jobs cards now opens in new tab
Fixed issue where category pages showed pill under skills rather than categories
Keyboard now hides on mobile when you select an option from autocomplete menus
Improved accessibly of icons on /jobs and /companies
Fixed issue page body would scroll when the filter panel is open on mobile 
Reduced padding on buttons from 20px to 16px
Added new button size to delineate between primary and secondary actions
Improved tertiary button to job and company cards
Fixed padding and margin inconsistencies on /changelog
Dropdown text now becomes bold as you type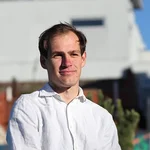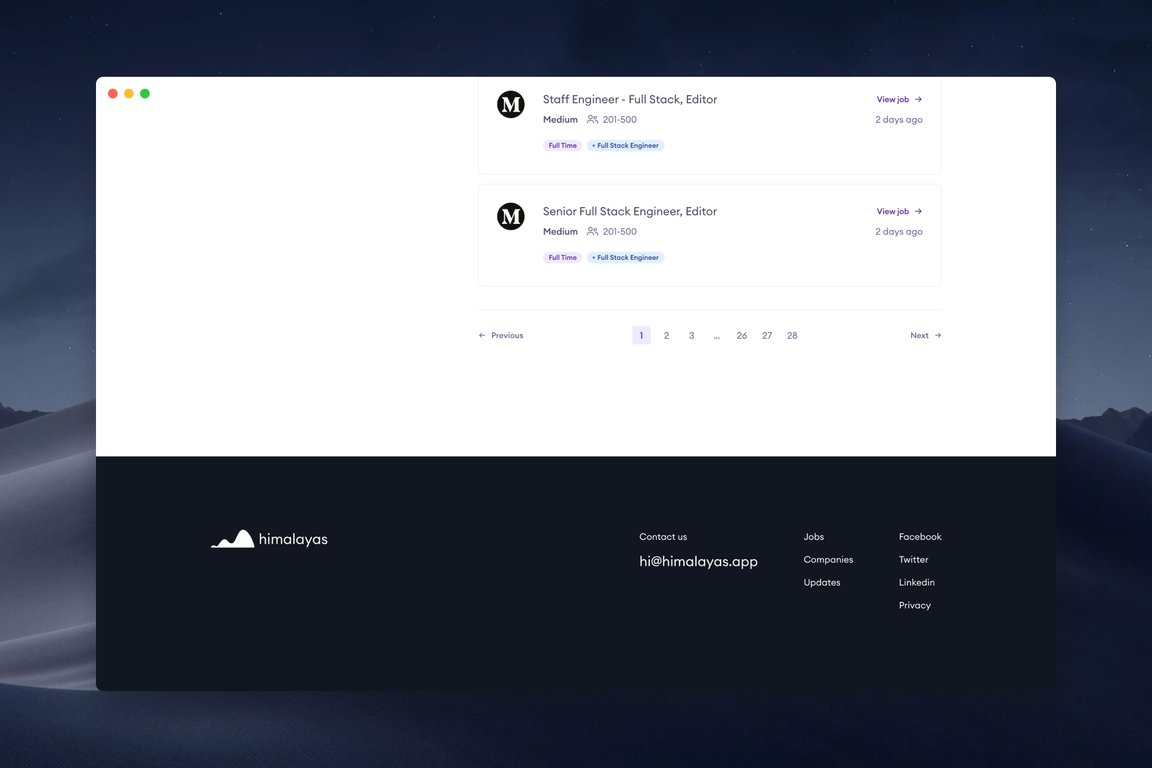 Pagination
We're continuing to expand our search functionality. On top of faster load times and better search suggestions, we have added pagination. As you're searching for a remote job, it's often easier to know how many jobs you've looked at and how you have to go. Now you can. 
To see pagination for yourself by
searching for a remote job
. We plan to make it even easier to save and share your job searches in the future too. This is especially handy if you want to share a specific search with a friend.
Other improvements and fixes
Fixed issue that caused feedback button to not work
Fixed issue where caching would cause company pages to not show header
Fixed issue prevent new jobs from being shared on social media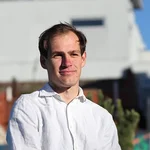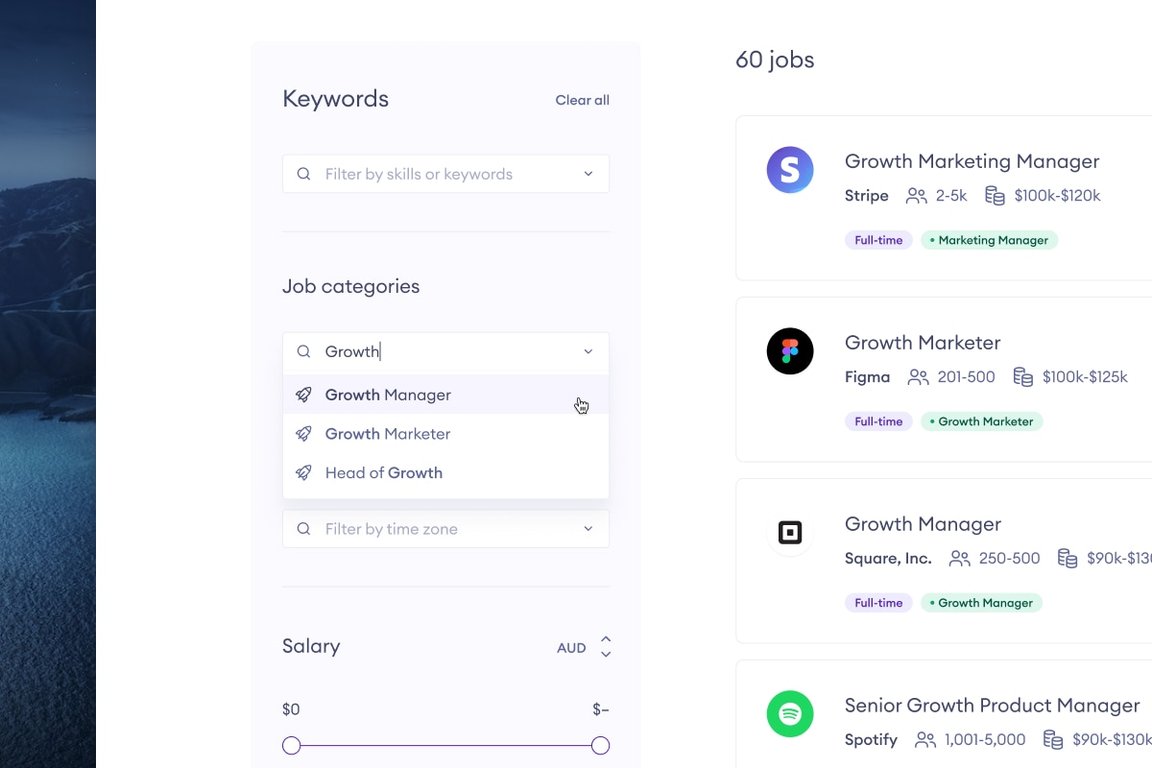 Faster load times
Over the past week we made significant updates to our load times. The most notable change is that we now cache search results. This makes it faster to search for jobs, which means less time looking at skeleton components and more time finding your next remote job. 
Better search suggestions
We now bold the text that matches your query and provide typeahead search suggestions for remote companies in our company search. This means you can now search by market, company name, or free text. 
Other improvements and fixes
Improved timezone preference section of individual job posts
Fixed issue where timestamps on job posts appeared as NaN on Safari
Fixed issue where company market pages linked to 404s in breadcrumbs
Fixed issue where + and - caused search to break
Fixed issue where multiple meta descriptions were available
Fixed issue causing structured data on jobs pages to be unparseable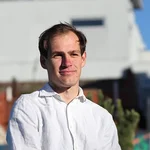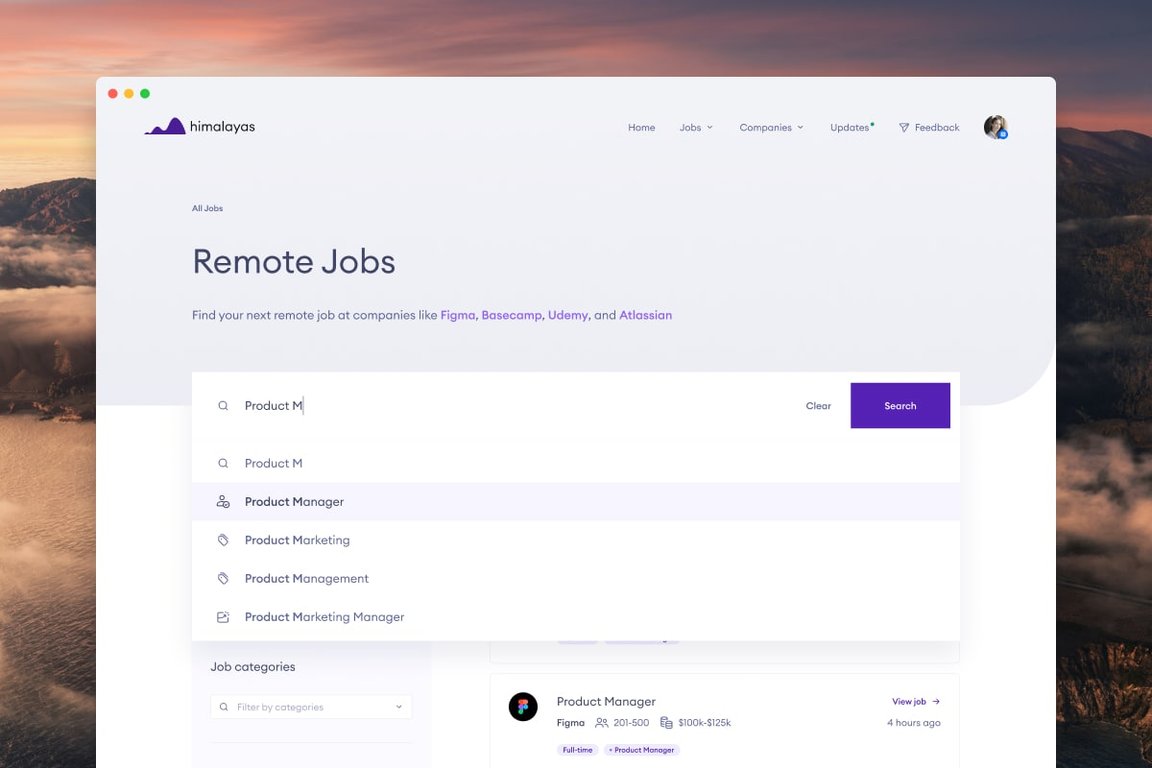 Faster, better designed search
We sped up our search suggestions making it faster than ever to find jobs that are relevant to you. We've also added your current text as a result underneath the main search and suggestions now highlight the part that matches your query. 
Additionally, job category now have their own icons, making it even easier to see which suggestions fit your criteria. Each job category badge now has its own color, another simple way for you to quickly delineate between different jobs.
Other improvements and fixes
Updated changelog open graph image
Fixed issue where period would cause open graph images to not render properly
Fixed issue where Euclid font was not rendering on mobile devices
Badge text now overflows vertically rather than horizontally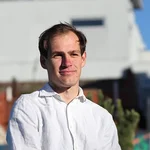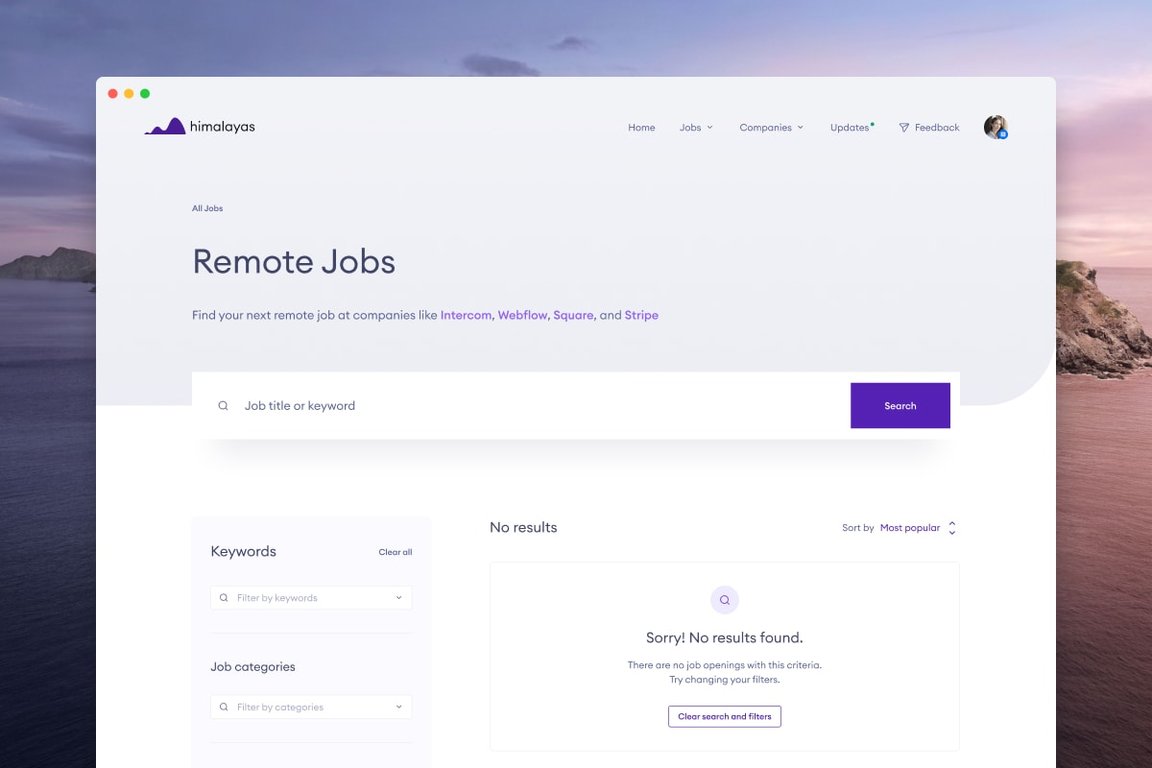 Empty states matter
There's nothing worse than not finding what you're looking for. That's why we spent last week designing and building an easy-to-understand empty state for our search. Ideally, you'll never see this screen but if you do, we want it to be a nice experience. We hope you like it.
Dynamic rendering
We've implemented dynamic rendering to help get jobs in front of more eyeballs. It's still difficult for search engines to process JavaScript, some aren't able to process it successfully or immediately. This means pages can take longer to rank or not rank at all.
Dynamic rendering means we switch between client-side rendered for you and pre-rendered content for search engines. Whenever we receive a request, we look at the user agent to determine if it's coming from a search engine or a regular user:
If the request is coming from a search engine, the response is proxied through a headless browser that pre-renders it.
If the request is coming from a regular user like you, the response is rendered client-side.
Support for Google Jobs
To make it easier for job seekers to discover jobs posted on Himalayas, we've added structure data to all job posts. This means our jobs can appear in Google Search, improving discoverability for job posters.
Other improvements and fixes
Fixed search to deprioritize companies with no jobs
To support longer job titles search results now stack vertically on mobile
Fixed an issue where Chatwoot would not display properly on mobile
Improved readability of badges in filter panel by increasing font size from 12px —> 14px and padding-left and padding-right from 10px —> 12px 
Fixed issue where dot points in job posts running over two lines were not respecting indentation
Fixed issue where Sydney timezone was displaying as 10.0 rather than (UTC 10.00): Sydney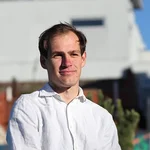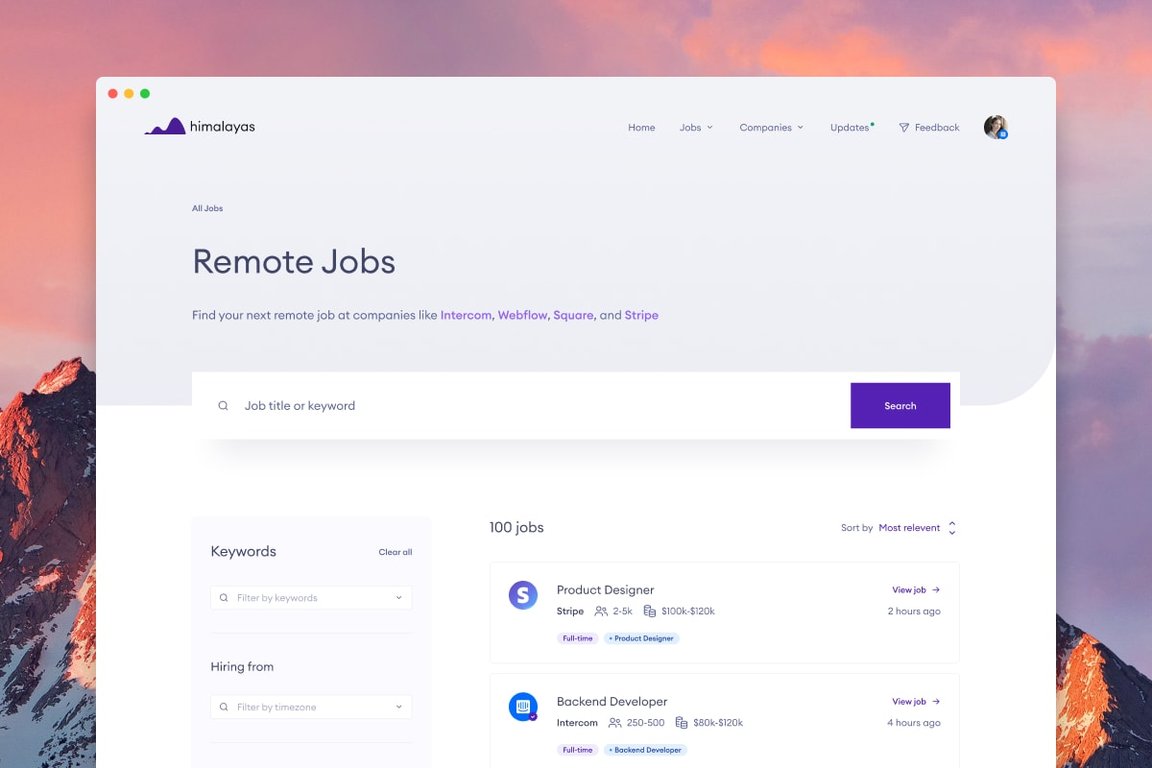 Find your next remote job with Himalayas
We're live! You can now search for jobs on Himalayas. This is our first release and we're super excited to show you what we've built and where we're going next.

Our search lets you find jobs by keywords, timezone, job categories, salary, type of work, and company. The plan is to continue tinkering with our search and improve it based on your feedback. You can give us feedback by clicking "Feedback" in the top nav or by starting a chat with us.

We can't wait to hear from you!
Explore remote companies
We've got a database of 800+ remote companies that you can filter by keyword, hiring location, and markets. We'll be adding more companies over time and you'll be able to claim your company profile and post jobs very soon.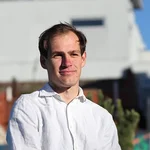 The latest jobs in your inbox
We'll keep you updated with the best new remote jobs.