(Senior) Recruitment Specialist
Hi! We are Netguru.
Hi! We are Netguru. We help entrepreneurs and innovators shape the world through
beautiful software
. We're looking for people to join our team and build a culture based on trust, taking ownership, and transparency. Introducing innovative solutions and improving our internal processes are the foundation for our development and achievements.As a
Certified B Corporation
® we offer a safe, inclusive and productive environment for all team members. We respect and want to build on
our diversity
. We are open for workplace adaptations. We also help team members develop their skills through
internal learning opportunities
, R&D projects, and growth budgets. Our efforts bring results: Netguru ranks as
one of the most desired IT employers
, alongside Facebook, S
pace
X, and Netflix.We are looking for exceptional candidates with a passion for recruitment and talent sourcing. Would you like to contribute to the growth of our company's human resources? If attracting new talent is your thing, apply for this position now.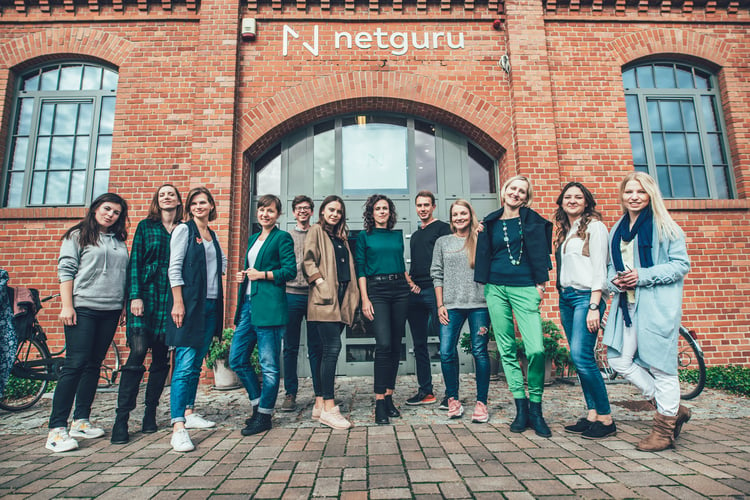 Joining Netguru as Recruitment Specialist means:
experimenting, questioning the status quo, and having a high degree of independence in managing your recruitment and employer branding processes, as well as other projects,
growing yourself and people around you – you will give and receive regular feedback in a team of open-minded people that will always have your back,
having high recruitment quality standards and ambitious hiring goals,
using high-quality tools, such as Hubspot, Workable and LinkedIn Recruiter Lite on a daily basis,
having a fast-paced career path with an opportunity of a pay-rise twice a year, based on clearly defined goals – you will frequently meet with your leader who will help you make full use of your potential,
having a lot of flexibility in terms of working hours and location,
taking part in a Creative Friday each week - to help you replenish your creative mind, look for area for innovation or improvement and implement your ideas.
What are the responsibilities of a Recruitment Specialist?
developing and implementing long-term recruitment strategies, taking part in headcount planning,
managing full lifecycle recruitment for different technical and non-technical positions,
taking care of a positive Candidate Experience,
Managing communication between applicants, hiring managers and other people involved in the recruitment process,
taking part in the promotional activities, direct search and establishing the initial contact with prospective candidates,
cooperation with the Marketing and Employer Branding teams,
improving daily work by optimization of the current processes and creating new ones.
We want you on board if you:
have hands-on experience in a full lifecycle recruitment planning and coordinating,
have a very good command of written and spoken Polish and English (CEFR C1+),
have experience in direct search and know how to effectively source the best talents,
are familiar with recruitment tools and can quickly learn how to use new ones,
have impressive communication and interpersonal skills,
are proactive, assertive, curious and have strong analytical skills,
have an ability to prioritise and switch tasks,
keep up-to-date with HR, employer branding and technology-related news,
are ready to work in a dynamic and feedback-based environment and take part in the optimization of the existing processes.
Perks & Benefits
Private health insurance package with dental care;
Optional co-financed group life insurance for you and your family;
Growth budget for your educational plan;
Masterbenefit (an option for leasing a car on favorable terms);
Discount on Apple products.

The salary range covers both - regular and senior position. Based on your professional experience as well as our assessment, you can find yourself in.


first (regular - 4,800 - 7,300 UoP) or
second brackets (senior - 7,300 - 8,900 UoP). 
Apply now
Please let Netguru know you found this job on Himalayas. This will help us grow!
Apply now
Netguru builds digital products that let people do things differently. Share your challenge with our team, and we'll work with you to deliver a revolutionary digital product. Our clients have changed the way people do banking, learn languages, and rent bikes. Their products have been featured by TechCrunch, Business Insider, and Product Hunt.
Netguru provides consulting services in product development, creating software solutions, and product design. Since our founding in 2008, our team has completed more than 600 projects and has 650+ employees on board working from all over the world. 
Currently, Netguru collaborates with the largest brands in the world, such as Volkswagen, IKEA, and Keller Williams, as well as fast-growing innovators in the financial (solarisBank), education (Babbel) or robotics (Temi) industries.
Netguru has been recognized as one of the fastest-growing companies in Europe. Our company was featured in the prestigious Deloitte's Technology Fast 50 (three times) and in The FT 1000 list three times in a row in 2017, 2018, and 2019. 
Connect with us to keep up to date with news from Netguru and follow the latest trends in our industry.
Tech stack
Learn about the technology and tools that Netguru uses.
View tech stack
Apply now
Please let Netguru know you found this job on Himalayas. This will help us grow!
Apply now